Verdict Vapors - PINK - 10mL / 3mg
Verdict Vapors - PINK - 10mL / 3mg
Customer Reviews
11/07/2020
Benjamin K.
United States
Burst Of Ripe Juice
This one tastes like a 50/50 cross between a cherry Starburst and a strawberry Mamba fruit chew. They absolutely nailed this flavor. I was blown away by how accurate it was to the genuine article. If you like sweet sweet candy this is the juice for you.
11/07/2020
Andrea P.
United States
Love Verdict Vapors
This flavor was ok. I didn't like the melon part of it but all of the other verdict vapor flavors are awesome. Strawberry Cream and Lemon Tart are my favorite and I highly recommend this brand.
11/06/2020
Squirrelly
United States
Starburst WHO??
Of all the "flavor genres" out there, one of my least favorite (or so I thought!) is candy flavors. So, why on earth would I buy this ejuice then? Well, I ordered some 10ml free sample bottles for my husband (he vapes freebase, I prefer salts), and something about the aroma of this ejuice coming from that little bottle kept calling me back to it. I decided to break WAY out of my comfort zone, grabbed a 30ml bottle of this in salt nic, and have ZERO REGRETS! In fact, when I received my order, I filled multiple devices with different flavors from Verdict (a taste-test of sorts), and Pink was one of those flavors that had me audibly saying "WOW!" from the first puff! For someone who avoided candy flavors like the plague, the fact I've repeatedly reached for this flavor is both surprising AND enlightening! I mean, maybe I don't dislike candy flavors after all... Maybe I just wasn't vaping the right ones! Crazy that I'm saying this, but this juice is lip-smacking DELICIOUS!! It's sugary-sweet & full of tongue-curling flavor, but doesn't overwhelm the senses or become sickeningly sweet after awhile. To my happy, salivating taste buds, this tastes like pink Starburst candies LEGIT- which everyone knows is the best flavor of the bunch! There's a twist on the exhale that makes this ejuice so much more than just another candy flavor though; something crisp, tart & juicy that grabs your attention & keeps you reaching for another puff! The whole experience is like a candy shop just opened up- in your mouth! It's nostalgic and so ridiculously satisfying, you might need to grab a towel to catch the drool! Verdict got this flavor spot-on RIGHT, and it absolutely delivers on its promise... If the color pink had a flavor, this would be it!!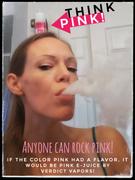 10/31/2020
Jesse R.
United States
My new favorite
Great product! Will buy again
10/28/2020
Hailey B.
United States
Sweet
I love this pink lemonade flavor very tasty every time I hit the vape
WHAT IS THE VG/PG RATIO?
70/30
What are Nicotine Salts? 
First off, they are not actual solid "salts" like table salt we use to add to foods. Rather a nicotine salt is a liquid compound that has been modified from its freebase form to its salt form, in this case, known as its acidic form.
What is the purpose of Nicotine Salts? 
The purpose of the Nicotine Salt itself is to enhance your vaping experience by utilizing increased strengths of nicotine while having little to no harshness at all.
Are Nicotine Salts safe? 
All components in the formulation, with the exception of Nicotine, are FEMA/GRAS food grade. Nicotine is USP grade. 
How do you use nicotine salts? 
What is the difference between normal nicotine solution and Nicotine Salt? Nicotine Salts can be used in the same manner as traditional nicotine solution, the difference lies in the capabilities of what the Salt can deliver. With the traditional nicotine blends, there are natural properties that a normal nicotine solution carries that does not permit the ability to vape at a higher nicotine strength. Normal nicotine solutions also may not deliver something a smooth as one may desire but what the salt does is that it takes those desired features and combines them into one. Nicotine salts permit the ability to vape at a much higher nicotine strength without the harshness or throat hit that would traditionally occur if using normal nicotine solution. For those who do not want to vape at a higher nicotine strength, what the Salt provides is the smoothest vaping experience. At low concentrations like 3 or 6, using Nicotine Salts could easily cause one to overlook the presence nicotine in their juice because of how smooth the experience is. 
How do I handle nicotine salts? Why is the liquid color different? 
Nicotine Salts should be treated with the same care as standard nicotine solutions.

The same amount of nicotine is still present in the Nicotine Salt solution as compared to an equivalent standard nicotine solution.

The reason why the Nicotine Salt solution has a different color is due to the acidification process. The color of the Nicotine Salt is the conclusion of its creation rather than, the oxidation of the Salt. An additional benefit of the process is that the Nicotine Salt contains anti-oxidative properties that will benefit the nicotine in extending its shelf life.
Information Provided by Nicotine River