Verdict Vapors - Rainbow Cookie - 10mL / 3mg
Verdict Vapors - Rainbow Cookie - 10mL / 3mg
Customer Reviews
CK
08/07/2017
Chris K.
This is an interesting, unique flavor that I highly recommend!
I got this flavor as part of the 3x10mL sampler and although the strawberries and cream flavor and the apple crumb flavor were both very good, rainbow cookies really stood out because of its unique flavor profile and perfect amount of sweetness. This tastes like rainbow sherbet with a hint of cookies.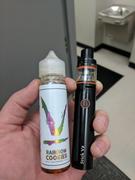 11/18/2020
Jeff
United States
11/18/2020
Anonymous
United States
Try before you buy
Got this with the try before you buy and it was so good . I love the try before you buy because I can try so many flavors without feeling like I'm wasting my money
11/05/2020
Anonymous
United States
Everyone should try verdict vapors! I'm a customer for life!
Exactly how it sounds it tastes.
11/05/2020
Squirrelly
United States
WOAH!! Such a unique treat!!
I got 5 different flavors of salt nics from Verdict that all arrived on the same day, so naturally, there I was, pulling out every device I own to try them all! From pod devices, like NORD & NOVO to MTL tanks, like Zenith & Zlide; across the board, these salt nics taste impeccable in ANYTHING I vape them in! As I enjoyed my side-by-side, taste-test puffing, this actually surprised me quite a bit, since with ejuices from other companies, I've experienced quite the noticeable difference in flavor between devices (With pod systems most often delivering more muted, less multifaceted flavor than tanks.). Not so with Verdict's juices! These are consistently amazing and FULL of flavor, regardless of one's preferred method of vape! This particular flavor in general is a wonderful surprise, in & of itself! Sugar-kissed, fresh-baked cookies flow effortlessly across the palate first, followed by a delightful menagerie of creamy fruits! Is it sugar cookies & sherbet, or the best Fruity Pebbles-like vape you've ever experienced? It's either, it's BOTH, it's whatever makes your taste buds tingle most! As a lover of cereal vapes, I did find this juice to be so delightfully reminiscent of a favorite childhood treat, but with a twist like no other! For quite a while, I settled on a cereal flavor called "Spoon", which was okay (quite muted), but if I vaped it from anything other than my NOVO 2, it tasted offensively AWFUL. Rainbow Cookies is absolutely NO COMPARISON! It blows every cereal ejuice I've tried out of the water, and yet, remains sensationally unique from all of them! You just gotta get your hands on Rainbow Cookie from Verdict! It's outstanding... No one does this flavor better because it's in a class of its own! In two words: EPICALLY SCRUMPTIOUS! An ADV full of sweet, sweet character; perfectly crafted to saturate the tongue in pure, wholesome yumminess, not overwhelm it, OR make you wonder where the flavor went!
WHAT IS THE VG/PG RATIO?
70/30
What are Nicotine Salts? 
First off, they are not actual solid "salts" like table salt we use to add to foods. Rather a nicotine salt is a liquid compound that has been modified from its freebase form to its salt form, in this case, known as its acidic form.
What is the purpose of Nicotine Salts? 
The purpose of the Nicotine Salt itself is to enhance your vaping experience by utilizing increased strengths of nicotine while having little to no harshness at all.
Are Nicotine Salts safe? 
All components in the formulation, with the exception of Nicotine, are FEMA/GRAS food grade. Nicotine is USP grade. 
How do you use nicotine salts? 
What is the difference between normal nicotine solution and Nicotine Salt? Nicotine Salts can be used in the same manner as traditional nicotine solution, the difference lies in the capabilities of what the Salt can deliver. With the traditional nicotine blends, there are natural properties that a normal nicotine solution carries that does not permit the ability to vape at a higher nicotine strength. Normal nicotine solutions also may not deliver something a smooth as one may desire but what the salt does is that it takes those desired features and combines them into one. Nicotine salts permit the ability to vape at a much higher nicotine strength without the harshness or throat hit that would traditionally occur if using normal nicotine solution. For those who do not want to vape at a higher nicotine strength, what the Salt provides is the smoothest vaping experience. At low concentrations like 3 or 6, using Nicotine Salts could easily cause one to overlook the presence nicotine in their juice because of how smooth the experience is. 
How do I handle nicotine salts? Why is the liquid color different? 
Nicotine Salts should be treated with the same care as standard nicotine solutions.

The same amount of nicotine is still present in the Nicotine Salt solution as compared to an equivalent standard nicotine solution.

The reason why the Nicotine Salt solution has a different color is due to the acidification process. The color of the Nicotine Salt is the conclusion of its creation rather than, the oxidation of the Salt. An additional benefit of the process is that the Nicotine Salt contains anti-oxidative properties that will benefit the nicotine in extending its shelf life.
Information Provided by Nicotine River